Mosi2 heating element are classified based on their temperature range, including the 1700 Grade, 1800 Grade, 1850 Grade, and 1900 Grade.
During usage, it is important to control the temperature of the mosi2 heating element based on the electrical parameters at different temperature ranges. It is crucial not to exceed the maximum limits of the element in order to achieve the desired furnace temperature. It is not desirable to thicken the diameter of the elements for raising the furnace temperature.
The following graph provides a reference for the resistivity and temperature curves of heating elements of types 1700, 1800, and 1900.
In cases where the power is matched to the heating rate, it is necessary to select a mosi2 heating element suitable for the desired temperature.If the actual temperature exceeds the operating temperature of the MoSi2 heating element, it will lead to damage of the MoSi2 heating element.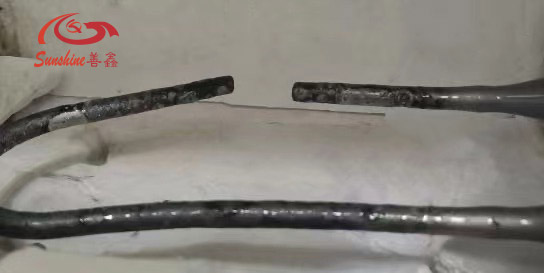 Product
Serial No
Standard(air environment)
Product features
Application Range
Molybdenum disilicide heating element
1700 Grade
Element temperature1700°c
The protective layer of element boasts excellent density.Molybdenum disilicide (MoSi2) elements are commonly used in high-temperature electric furnaces, especially in special atmosphere furnaces.
Sintering of Al2O3,SiO₂,etc.
1800 Grade
Element temperature1800°c
The protective layer of element boasts excellent density.The density of molybdenum disilicide and working tempeature is higher compared to products of 1700 Grade,Operating furnace temperature is not more than 1650 degrees Celsius.
Sintering of higher pure Al2O3,SiO₂,Y2O3,ITO,etc.
Super 1800
Element temperature1800°c
The protective layer of element boasts excellent density.High temperature strength is slightly higher compared to products of 1700 Grade, Operating furnace temperature is not more than1700 degrees Celsius.
Sintering of higher pure Al2O3,SiO₂,Y2O3,ITO,etc.
1850 Grade
Element temperature1850°c
The protective layer of element boasts excellent density.They have higher purity,high temperature strength is slightly higher compared to products of 1800 Grade.They can withstand large surface loads.
Sintering of Mgo,SiO₂,Y2O3,ITO,etc.
1900 Grade
Element temperature1900°c
The protective layer of element boasts excellent density.They have higher purity,High temperature strength is better.The protective layer of element is thinner. High performance , withstand large surface loads.
High temperature electric furnaces with special requirements for high temperature strength and protective layer of electric heating elements