T-Crystal Dental Zirconia Sintering Furnace (Box Type)
T crystal dental zirconia sintering furnace is box type sintering furnace.
This box type dental zirconia sintering furnace adopts high purity polycrystalline mullite fiber as furnace material, which is light in weight, small in volume, and only 1.5 KW in power.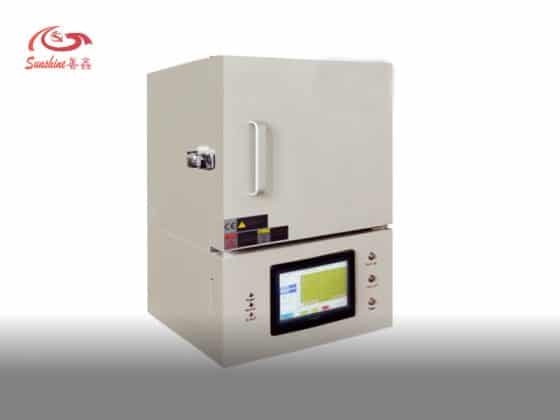 T crystal dental zirconia sintering furnace is suitable for small laboratories and even a family working environment.
Dental Zirconia Sintering Furnace Features
T-Crystal is specially designed for the sintering of small-batch samples of zirconia denture crystal, structural ceramics, and polymer ceramics.
Max temperature: 1700℃
Working temperature: 1600℃
Automatic program for heating. It's very convenient for dental crown firing.
7 inch HD touch screen, easy to operate, can store 30 different processes programs.
The rated power is only 1.5kW, which is suitable for any small lab.
High speed temperature increasing, 0-40℃/min.
4pcs Mosi2 heating elements.
1 year warranty.
Technical Parameters of T crystal dental zirconia sintering furnace
Chamber size
100 × 100 × 100mm
Max. temperature
1700 ℃ (<2hour)
Working temperature
800℃ – 1600℃
Temperature controlling
● PID automatic control via SCR (Silicon Controlled Rectifier) power control with phase angle fired, current limiting resistor.
● Touch screen panel for Dental Zirconia Sintering Furnace which can store 30pcs different programs
● Built-in PID Auto-Tune function with overheating & SSoken thermocouple SSoken protection.
● Over-temperature protection and alarm allow for operation without an attendant.
Temperature accuracy
± 1℃
Temperature Uniformity
± 5℃
Heating rate
0-40℃ /min
Thermocouple
B type (Pt-Rh to Pt-Rh) with 99.7% purity Alumina tube
Heating element
U type MoSi2 heating elements
Furnace Chamber
Three layers of ceramic fiber insulation materials
● First layer: 1800℃ ceramic fiber board
● Second layer: 1600℃ ceramic fiber board
● Third layer: 1260℃ ceramic fiber board
Furnace structure
Double layer steel casing with dual cooling fan, surface temperature below 60℃
Outer dimension
About 410 × 380 × 610mm
Working voltage
220V, 50HZ/60HZ, 1 phase (As per your order)
Rated power
1.5KW
Weight
Net Weight: about 58kgs
Gross Weight: about 78kgs
Warranty
● For this Dental Zirconia Sintering Furnace, One year limited warranty with lifetime support. (Consumable parts such as heating elements and crucibles are not covered by the warranty, please order the replacement at related products)
● ATTENTION: Any damages caused by the use of corrosive and acidic gases are not under the coverage of One Year Limited Warranty.
Certifications
CE
Technical Parameters of T crystal dental zirconia sintering furnace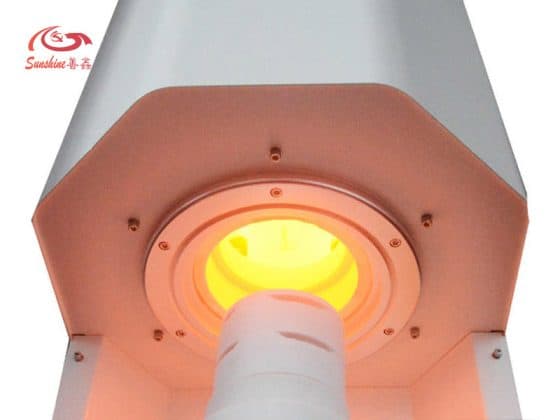 Application:
The cooling rate of this dental sintering furnace shall also not exceed 10 °C /min.
Toxic or explosive gases are not recommended for use with this furnace without necessary safety controls and supervision.
Small cracks may appear on the surface of the refractory ceramics over extended use. This is a normal occurrence and the cracks may be repaired with alumina coating.
A refractory door block must be inserted before closing the door.