CE standard electric 1700 ℃ muffle furnace
SS-17M 1700 ℃ muffle furnace consists of high-quality alumina fiber SSick and MoSi2 heating elements with the special design. This lab furnace can be used up to 1700℃.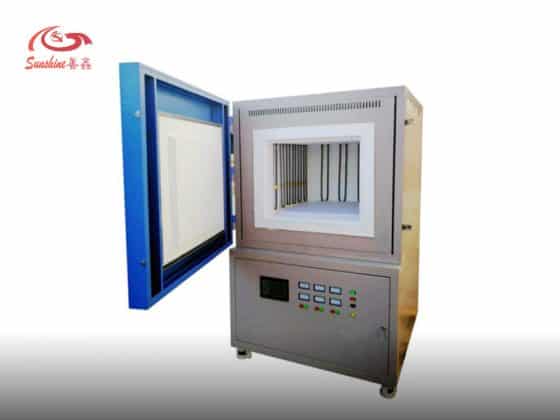 It is an ideal electric muffle furnace for materials annealing and sintering in your research laboratory.
Max 1700 ℃ muffle furnace features
Operation Temperature: 1600℃ (1700℃ for short time).
Maximum energy efficiency is achieved by surrounding the chamber with thermal-efficient alumina fiber ceramic insulation.
Heavy-duty double-layer structure with the cooling fan. Lower temperature in outside case.
PID automatic control via current limiting phase angle fired the resistor, e.g. SCR (Silicon Controlled Rectifier).
Power control with 51 segments programmable.
Max 1700 ℃ muffle furnace specifications
Technical specifications
Max. temperature
1700℃ (<2hour)
Working temperature
1600℃
Standard Temperature controlling
● PID automatic control via SCR (Silicon Controlled Rectifier) power control with phase angle fired, current limiting resistor.
● 51 programmable segments for precise control of heating rate, cooling rate and dwell time.
● Built in PID Auto-Tune function with overheating & SSoken thermocouple SSoken protection.
● Over temperature protection and alarm allows for operation without attendant.
Optional of Temperature controlling
● Software (Furnace can be operated by PC by installing a control software )
● Touch screen temperature controller
Temperature accuracy
±1℃
Temperature Uniformity
±5℃ over 120mm @ 1700℃
±3℃ over 80mm @ 1600℃
Heating rate
0-15℃/min
Thermocouple
B type (Pt-Rh to Pt-Rh) with 99.7% purity Alumina tube
Heating element
MoSi2 heating elements for Muffle Furnace 1700 Type
Furnace Chamber
Three layers of ceramic fiber insulation materials
● First layer: 1800℃ ceramic fiber board.
● Second layer: 1600℃ ceramic fiber board.
● Third layer: 1260℃ ceramic fiber board.
Furnace structure
Double layer steel casing with dual cooling fan, surface temperature below 60℃
Furnace door
● Power cutting off when furnace door open
Warranty
● One year limited warranty with life time support. (Consumable parts such as heating elements and crucibles are not covered by the warranty, please order the replacement at related products)
● ATTENTION: Any damages caused by the use of corrosive and acidic gases are not under the coverage of One Year Limited Warranty.
Certifications
CE
Max 1700 ℃ muffle furnace technical specifications
Application
Cooling rate of this Muffle Furnace 1700 Type shall also not exceed 10℃/min.
Toxic or explosive gases are not recommended for use with this furnace without necessary safety controls and supervision.
Small cracks may appear on the surface of the refractory ceramics over extended use. This is a normal occurrence and the cracks may be repaired with alumina coating.
Refractory door block must be inserted before closing door.
1700 ℃ muffle furnace standard size
Type
Max.
Temperatur(℃)
Furnace Chamber Size(mm)
(Width x Height x Depth)
Volume(L)
Rated Power(kw)
SS-17M-1
1700
100x100x100
1
1.5
SS-17M-2
1700
120x120x130
2
3
SS-17M-3
1700
150x150x150
3
4
SS-17M-5
1700
150x150x200
5
5
SS-17M-8
1700
200x200x200
8
7
SS-17M-12
1700
200x200x300
12
8
SS-17M-27
1700
300x300x300
27
10
SS-17M-36
1700
300x300x400
36
12
SS-17M-64
1700
400x400x400
64
25
SS-17M-125
1700
500x500x500
125
35
SS-17M-216
1700
600x600x600
216
50
SS-17M-512
1700
800x800x800
512
90
SS-17M-729
1700
900x900x900
729
115
SS-17M-1000
1700
1000x1000x1000
1000
140
1700 ℃ Muffle furnace standard size